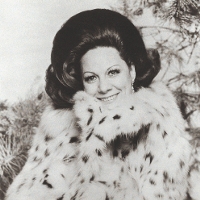 Defining Renata Tebaldi, one of the most famous primadonnas of  Opera, a star, is not entirely pertinent if the word "star" means what is commonly intended:  the imperious exhibition of supremacy, whim become art, a life that cleverly distances itself from the flat life of  mortals, a love life that can fill the chronicles perhaps more than the chronicles of exceptional interpretations.  A life, in brief, of exhibition.
By this definition, Renata Tebaldi was not a star:  Renata was music made voice. This affirmation may seem reductive or one of excessive admiration if it were not reality.
Naturally bashful, not shy, Renata Tebaldi reserved her statuary beauty for her musical heroines, conserving her privacy jealously and preventing any type of intrusion into her private life:  this at times went to the disadvantage of her image that the public may have preferred more similar to the style of "stardom".
But the fascination of her incomparable voice and her wisdom as a musician have made Renata Tebaldi the "star" that all the world acclaimed and who is mourned today by the entire world.
 
Napoli partenza per l'America