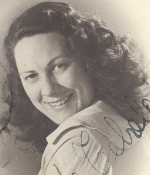 She was born in Pesaro on the 1st of February, 1922, and studied piano at the Conservatory of Parma and afterwards lyric with Maestro Campgalliani.  At the  "Gioacchino Rossini" high school at Pesaro she studied singing with the famous soprano Carmen Melis.
She made her debut as Elena in Mefistofele by Arrigo Boito in Rovigo in 1944   She took part in the re-opening concert of the Scala of Milan, directed by Arturo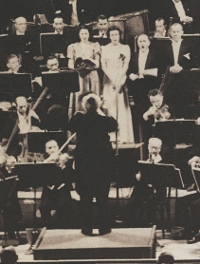 Toscanini, singing the Prayer from Moses in Egypt by Rossini and in the "Te Deum" by Giuseppe Verdi.  On this very occasion Arturo Toscanini defined her voice as the "voice of an angel".
Renata Tebaldi possessed a prodigiously beautiful, velvety instrument,  that of an authentic,  lyrical soprano,  governed by a technique which permitted her to pass homogeneously from register to register, to have an exemplary legato and spectacular emission ("messe di voce") able to go from incredibly high pianissimo notes to rivers of sound.  An extremely gifted performer  with a  prestigious stage presence,  a lyrical temperament and a tendency towards sentimental abandonment rather than tragic expression, she was able to interpret her roles perfectly thanks to her inspired nobility of  phrasing and her high level of  musical and stylistic sensibility.
In the traditional repertoire of Verdi's  later operas (Aida, Othello, Falstaf), in Puccini which she found  particularly congenial  (La Boheme and Tosca, Manon Lescaut), in
Cilea's Adriana Lecouvreur, in  Giordano's ,Andrea Chénier  and Fedora, Renata Tebaldi  was able to show, with  perfect expressive intuition, a prodigious richness of vocal color and a superb lyrical style.  Her style was alien to the  blatant extroversion of the "veristi" sopranos,  her art was characterized by a taste of classical purity ( all you have to do is listen to her memorable "Vissi d'arte" from Tosca).
During the first part of her career she faced not only works of Wagner in Italian (her Elsa from Lohengrin and her Elizabeth from Thannauser are both very famous) and Mozart (in particular The Marriage of Figaro), but also historical representations of works of Haendel (Julius Caesar ), Spontini (Olimpia and Fernando Cortez), Rossini (The Siege of Corinth and William Tell) e her first  Verdi (Joan of Arc).
She also gave memorable performances in dramatic roles, at the cost of forcing her innate lyrical temperament: among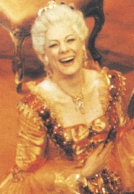 these , apart from Tosca and Aida already cited, we can remember Leonora in The Force of Destiny (debut in Florence in 1953 directed by Dimitri Mitropoulos) and Wally by Catalani at the Scala. A record was made in 1958 for Decca in which she played the role of Minnie in the The Girl of the Golden West, by Puccini, but she didn't sing it on stage until 1970 at the Metropolitan of New York. For Decca, directed by Georg Solti, with Carlo Bergonzi she made a record of Don Carlo, and later of "Masked Ball" in 1970 with Luciano Pavarotti.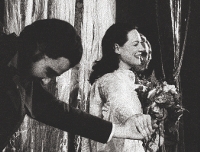 Her real American debut was with Aida at the San Francisco Opera in 1950, but her New York debut, at the Metropolitan took place only on the 31st of January1955 when she triumphed as Desdemona in Othello together with Mario Del Monaco (her habitual partner when making records). Her appearances at the Metropolitan, which became her main theatre seat following a temporary separation from the Scala Theatre in Milan, continued with great regularity. Here she interpreted among other works the Bohème, Madame Butterfly, Tosca, Manon Lescaut, and La Traviata.
In 1959 after an absence of four years, she returned to the Scala in Milan in Andrea Chenier and Tosca with Giuseppe Di Stefano and Tito Gobbi and together they received 40 minutes of applause.
She gave a definitive farewell to the stage on the 23rd of May, 1976  with a triumphant concert at the Scala
Renata Tebaldi passed away on the 19th of December, 2004 and is buried in the family chapel in the cemetery of Mattaleto di Langhirano – province of Parma.