A CASTLE FOR A QUEEN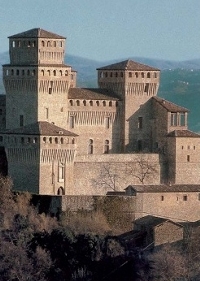 The Castle of Torrechiara commissioned by Pier Maria Rossi, of the Visconti Family, was built between 1498 and 1460 for his mistress, Bianca Pellegrini.  It is considered to be one of the most evocative and most well kept castles of Italy, with extraordinary frescoed cycles:  the "Golden Room " of about 1464 and the grotesques of Cesare Baglione.
Nineteen of the rooms of the Castle host practically the entire collection of :  theatre costumes designed by such artists as Nicola Benois, Beni Montresor, Giorgio De Chirico and concert costumes and evening clothes designed by Valentino, Biki, Rosita Contreras, Hanee Mori, Stavropoulos and others,  splendid stage and personal jewelry,  travel trunks and rare documents which were part of  the career of  Renata.
The idealization and care of the image of the Exhibition was trusted to the art of Oliviero Toscani, known worldwide as one of the most interesting producers of publicity campaigns: he is, in fact responsible for the title "A Castle for a Queen".
"A Castle for a Queen" intends to carry out the ambitious project which will definitively furnish a permanent location for the extremely rich material offered by Ernestina Viganò, an authentic witness to the life and career of Renata Tebaldi.
On the basis of their field of competence the Superintendence of Environmental Heritage and Landscape of the province of Parma and Piacenza, the Municipality of  Langhirano, the Renata Tebaldi Committee, the Regio Theatre Foundation of Parma, thanks to the authoritative diligence of its Superintendent Master Mauro Meli, collaborated together for the project. 

Foto di Giovanna Pagano - Tutti i diritti sono del Comitato Renata Tebaldi.